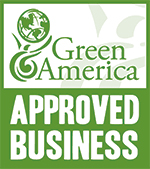 Blessings Enterprises is proud to be a member of the Green Business Network™. A green business operates in ways that solve – rather than cause – social and environmental problems. Green businesses adopt principles, policies and practices that improve the quality of life for their customers, employees, communities, and the planet.
The businesses that make up the Green Business Network are, simply put, rewriting the rules of commerce. They challenge themselves to bring the goals of social and economic justice, environmental sustainability, as well as community health and development, into all of their activities — from production and supply chain management to employee relations and customer service.

Blessings Enterprises is also reviewed on Angie's List™. More than 1.5 million households use Angie's List to find high quality service companies and health care professionals in over 550 categories.
Reviews From Around the Web:
Being in the healing profession myself, I know that traditional methods of dealing with past issues are not always effective. Terri helped me find energy to move forward. I can't wait to visit her again.
Blessing Enterprises has been a wonderful blessing to my life. The healing work I have done with Terri has allowed me to be more effective and focused in my personal relationships and professional life.
The energy work she guides me through has served to open my mind's eye to my own potential.
I started doing healing work b/c of some physical issues, but what I found is that when I dealt with the emotional component, and was willing to let go of what was keeping me stuck, the pain and physical stuff resolved itself. This has helped with relationships, quitting smoking, 12 step recovery, and other things in my life. I feel better, lighter, have a lot more clarity about things, and take better care of myself in all ways.
I had never tried, and honestly did not believe, that we could do this at a distance. I continue to be amazed and excited about how well all of this works, how efficient it is, and the success I am enjoying as a result. Her intuitions are right on, and the Affirmative Life Coaching is indeed affirmative. I have been amazed at how well this stuff works hundreds of miles away.
I no longer feel like I am rebuilding my life, now I feel like I am really living my life to the fullest. I have discovered my own self worth, and that is priceless.
No doctors were able to do what she did for me in such a short period of time. Only three visits to change my life after 20 years of all kinds of doctors and medications couldn't do it. Now that is true healing!